42.
$4,200,652
$3,222,750-$3,867,300
10/05/2014
PAE: $3,222,750-$3,867,300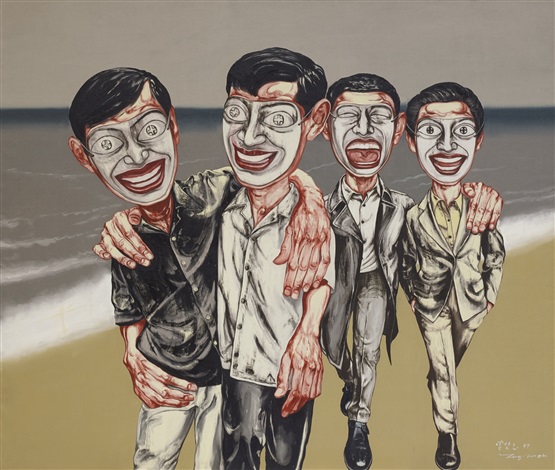 Zeng Fanzhi, Mask Series No. 4, signed in Chinese and Pinyin, and dated 97, oil on canvas, 169 by 199 cm.; 66½ by 78⅜ in. © Images are copyright of their respective owners, assignees or others.
Zeng Fanzhi (b. 1964) is a contemporary Chinese painter, living and working in Beijing. Zeng's work embodies a culmination of influences from western art movements, such as German Expressionism, Abstract Expressionism, and Pop Art, combined with eastern traditions of landscape and calligraphy. While at school, Zeng was trained in Soviet Socialist Realism promoted under Mao Zedong's Cultural Revolution. He is part of a group of artists, including Yue Minjun and Zhang Xiaogang, who witnessed the psychological effects of the Cultural Revolution's suppression of millions of intellectuals, professionals, and officials. Zeng's mother was victimized and officially harassed for wearing pink flowers on her drab revolution approved clothing. Zeng's early works, similar to those of his contemporaries, focus on the trauma involved with masking one's individuality for the sake of collective advancement. Influenced by German Expressionists, like Max Beckmann, Zeng's first breakthrough paintings are known as his "Hospital Series". Perhaps his most political series to date, the works from this group, created in the early 1990s, present the viewer with patients, nurses, and doctors in a hospital setting. There is a grotesque exaggeration of the color red, that connects all those depicted, symbolically suggesting that China's program of collectivity has become ubiquitously self-effacing, and can be viewed as an abduction of one's own circulatory or muscular system. Upon the success of this series with support from art critic Li Xianting and Hong Kong art collector Johnson Chang, Zeng was able to leave his job assignment in China's growing advertising industry and relocate to Beijing where he would quickly move into his "Mask Series". This series would bring Zeng Fanzhi international acclaim and set him up to be one of China's most successful artists. Zeng adorned his disproportionate figures with facemasks expressing a range of emotional states. These figures often wear uniforms from the Young Pioneers of China – a Boy-Scout-like organization – or a western suit, a significant observation captured by Zeng who noticed the transformation from Mao uniform to western dress beginning in the late 1980s. The "Mask Series" reflects the psychological isolation of many of China's white-collar urban workers, during the 1990s, united in the falseness of their outward appearance, absurd and child-like, the enlarged hands symbolizing bottled-up frustration. This series lasted until 2001. (See "Mask Series No 6", 1996). His reflections on western cultural advancement and eastern reverse adaptation continue with his landscape abstractions from the early 2000s onward. Recalling the 'action painting' of Abstract Expressionism, Zeng sites an awkward cultural morphing. There is a sizable tension between the image and the abstraction. In these works Zeng situates the abstract work of western art history deliberately on top of a nocturnal landscape. The landscape, a poetic nod to Chinese tradition, is dark and dim, fading, fore-grounded by calligraphic-like brambles that are undecipherable obstructions. With works, such as "Hare", 2012, Zeng places an enlarged rendition of Albrecht Durer's "A Young Hare", 1502, amidst the landscape of confusion. Similar combinations can be detected in his portraits of Andy Warhol, as well as portraits from his "Great Men" series, all pop-like appropriations. These continuations of Warol's own "Mao" paintings, from the 1970s, are ironic in their eastern context and hand-painted, gestural execution, an acknowledgement of culture clash, one of many forced histories. Zeng Fanzhi is represented by Gagosian Gallery. See also Yue Minjun, Zhang Xiaogang, Wang Guangyi, Sui Jianguo, Anselm Kiefer, Glenn Brown, Robert Longo, Neo Rauch, Georg Baselitz, and Brice Marden.
Video: Beneath and Beyond" by Ringo Tang - from
Nowness