288.
$293,000
$250,000-$350,000
05/08/2016
PAE: $250,000-$350,000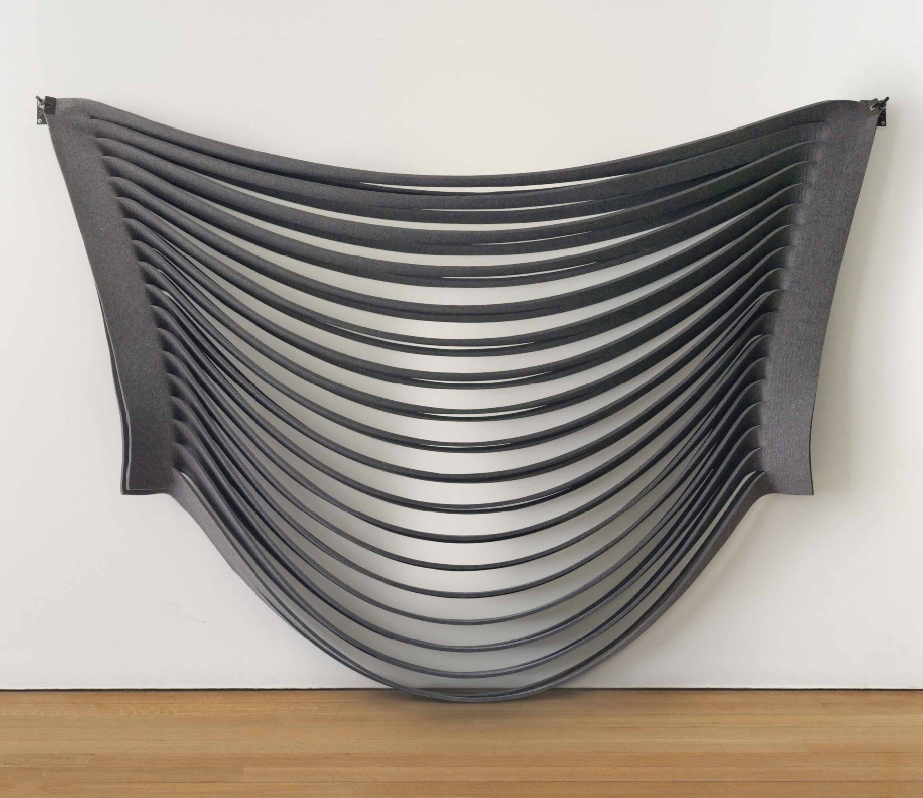 Robert Morris, Untitled, felt, metal fasteners, 108 1/2 x 153 1/2 x 13 in. (275.5 x 389.8 x 33 cm.) Executed in 1996. This work is accompanied by a photo-certificate signed by the artist. © Images are copyright of their respective owners, assignees or others.
Robert Morris (b. 1931) is an American sculptor, conceptual artist and writer who played a significant role in defining Minimalist sculpture, Process Art, and Earthworks, as well as paving the way for performance art and installation art. His interests may seem varied but they arrive as a result of the artistic climate of the 1960s, a critical climate of defiance aimed at Abstract Expressionism (1940s-50s) and it's lofty claims of "transcendence and spiritual values". Morris, along with Donald Judd, set out to create works of simplified, minimal shape that exist not on a pedestal nor with any reference to history, but as one with the viewer in time and space (works that exist 'as is', works that abandon the presumption that painting or sculpture could universally communicate the emotions of the artist). Morris wrote an influential essay in multiple parts titled "Notes on Sculpture", 1966, which appeared in Artforum and helped define a movement, later identified as Minimalism. Morris argues that the mind knows simple shapes. By recreating simple shapes, as in "Untitled (L Beams)", 1965, or in his installation at Green Gallery in 1964-1965, the viewer, already knowledgeable of the forms, does not have to ponder the appearance for explanation (the form is simply a regular polyhedron). The viewer is free to experience space with the forms "for it is the viewer who changes the shape constantly by his change in position relative to the work". Morris' thoughts on the body's experience of space were further explored in his 1971 exhibition "Bodyspacemotionthings" at the Tate. By laying the foundation for Minimalism, Robert Morris helped push sculpture into what could be called an "expanded field".
Minimalist sculpture embraced new materials (Morris constructed his polyhedrons with plywood) and consequently art was not bound to any specific material. This freedom of material, led to the creation of new art genres, namely Process Art, Arte Povera, Performance, Body art, Installation, and site-specific art, all under the umbrella title Postminimalism. Morris helped pioneer Process Art through his use of felt and threadwaste as medium. His felt pieces date from 1967 and have continued to present day. In these works, the pieces are linked directly to the process of their construction through various cuts in the felt that serve as visual records of interruption and incision. Gravity is also a part of the process. The works sometimes limply hang from the wall at various points, and other times are grouped in piles on the floor. This placement is temporary and changes each time the work is re-hung or placed. Morris writes in his essay "Anti-Form": "Random piling, loose stacking, hanging, give passing form to the material. Chance is accepted and indeterminacy is implied, as replacing will result in another configuration. Disengagement with preconceived enduring forms is a positive assertion. It is part of the work's refusal to continue estheticizing the form by dealing with it as a prescribed end." In his "Continuous Project Altered Daily", 1969, Morris manipulated various materials, including earth, felt, grease, water and cotton for three weeks, aligning chance with limits of time and space, refusing to aestheticize his materials. Robert Morris is lives and works in New York City and is represented by Castelli Gallery. See also Richard Serra, Donald Judd, Jo Baer, Fred Sandback, Lynda Benglis, Eva Hesse, Felix Gonzalez-Torres, Wade Guyton, Frank Stella, Bruce Nauman, Joseph Kosuth, Carl Andre.