169.
$605,000
$500,000-$700,000
11/08/2015
PAE: $500,000-$700,000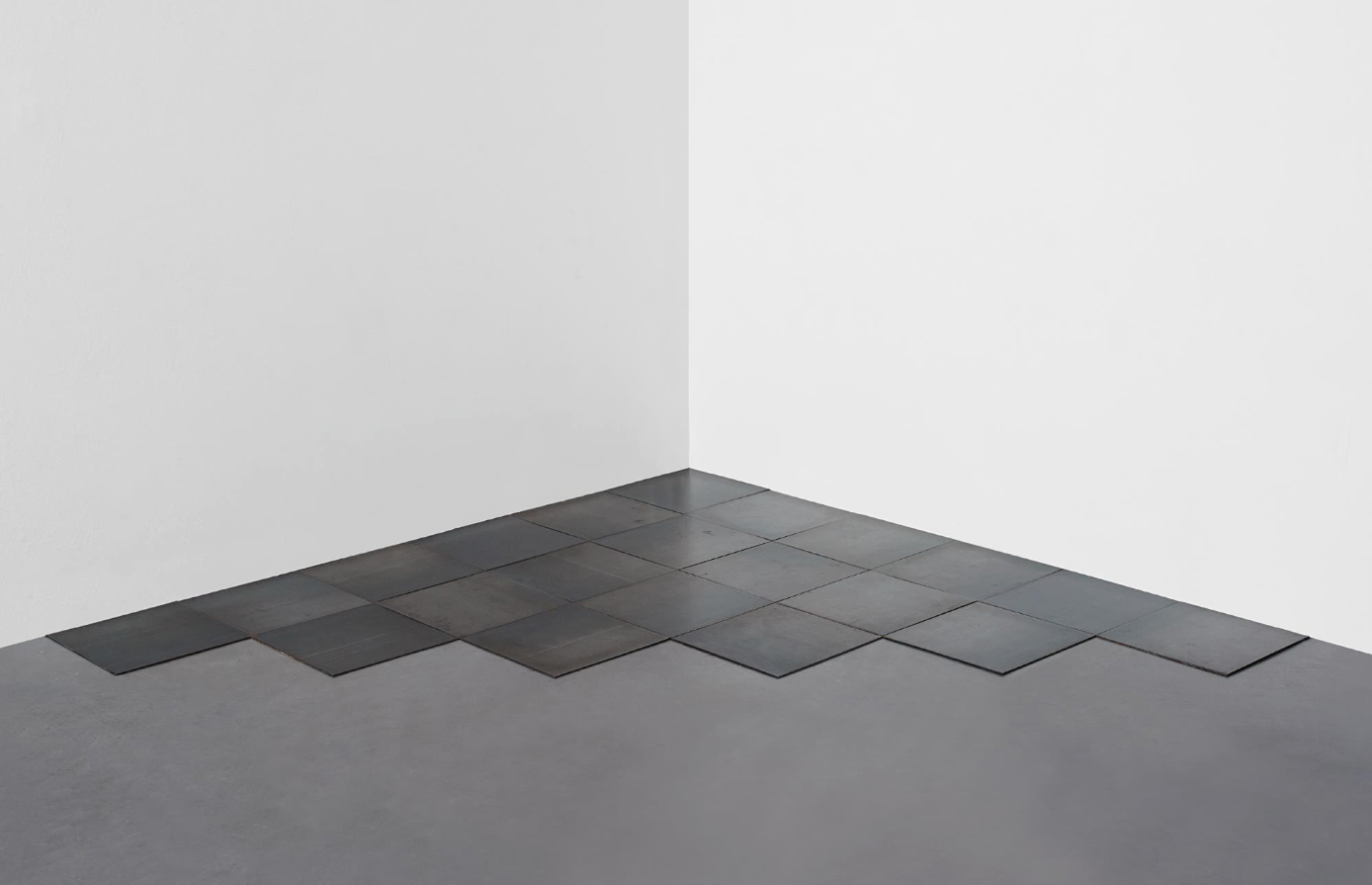 Carl Andre, Sixth Steel Corner, 1978, steel plates, in 21 parts, each 1/4 x 19 5/8 x 19 5/8 in. (.5 x 50 x 50 cm) overall 1/4 x 118 1/8 x 118 1/8 in. (.5 x 300 x 300 cm) This work is accompanied by a certificate of authenticity signed by the artist. © Images are copyright of their respective owners, assignees or others.
Carl Andre (b. 1935) is an American sculptor and poet recognized as one of the founders of Minimalism. He is known for his work in the 1960s in which he arranged manufactured building materials such as western red cedar timbers, steel, zinc, magnesium, lead and copper plates, aluminum ingots, bricks, zinc ribbons, granite, among others, in sequential patterns on the floor. His work signals a break with traditional sculpture that was often displayed on a pedestal or as a pedestal, and typically involved some sort of shaping and representation, either figural or gestural. Andre utilizes the premade unit, the brick or timber, found in any building supply store or salvaged from the street, and situates these units in a space without altering their form. He relocates the units to the floor or ground, displaying them in patterns, interrupting the objects' intended purpose for industrial construction, rendering the material foreign, and grouping them in works for a viewer's contemplation. Upon seeing materials so familiar the viewer is challenged and does not know what to do. "Can I walk on it?" might be a typical question and many times one can. His works are not joined together permanently and they are assembled on site turning the gallery into the artist's studio. With his radical use of matter as matter, Carl Andre subverts one's perception of reality itself. In an interview with The Guardian in 2013 he reflects, "There are no ideas hidden under those plates! They're steel plates and nothing else!" After developing an understanding of his work it is difficult to look at a raw timber or a brick wall without feeling a sense of animation in the raw materials, as if units of Andre's concrete poetry by which reality itself is rendered somewhat more transparent.
Carl Andre lives in New York City and is represented by Paula Cooper Gallery. Among Andre's influences are the readymade of Marcel Duchamp, the work of Russian Constructivists: Vladimir Tatlin and Aleksandr Rodchenko, Constantin Brancusi, and the paintings of his former studio mate Frank Stella. See also: Dan Flavin, Sol Lewitt, Donald Judd, Richard Serra, Eva Hesse, and Robert Morris.