143.
$725,000
$400,000-$600,000
05/13/2015
PAE: $400,000-$600,000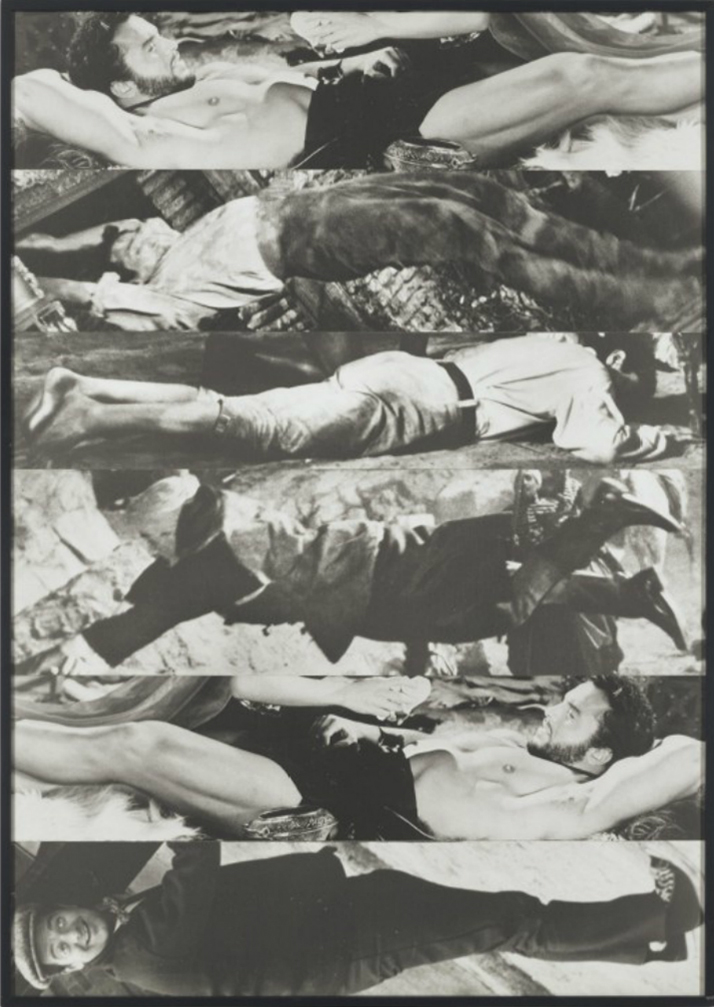 John Baldessari, Horizontal Men (With One Luxuriating), Six gelatin silver prints mounted on board in artist's frame, 68 x 48 in. (172.7 x 121.9 cm.) Executed in 1984. © Images are copyright of their respective owners, assignees or others.
John Baldessari (b. 1931) is a Conceptual artist living and working in California. His early works, from the mid 1960s, are pieces for which he hired sign painters to paint text, derived from contemporary art theory, directly onto canvas. Works that read "EVERYTHING IS PURGED FROM THIS PAINTING BUT ART, NO IDEAS HAVE ENTERED THIS WORK." and "PURE BEAUTY" empty the canvas of typical pictorial relations, only to ironically fill it back up with the painted lines of text that float between suggestion and portrayal. Choosing text, in this case, art definitions, Baldessari leaves the viewer suspended between the literal reading of the words and their associative qualities when painted on canvas, highlighting a relationship between language and image, a seemingly indispensible codependency. Baldessari's texts play with the readers' drive to search for meaning, often subverting any one meaning, allowing for simultaneous readings. "Commissioned Paintings", 1969, further distorts a viewer's grasp of meaning. In this series, Baldessari, commissioned relatively unknown painters to select and copy a picture from Baldessari's own collection of photos of his friend pointing at things that interested him. Crediting the painters on the canvas, Baldessari confuses authorship between himself as photographer, his friend as pointer, and the painter as painter. He is credited for being extremely influential in exposing and bridging a gap, not only between language and picture, but also, painting and photography. Works, such as the "National City" series, 1966-68, depict the purely informational, placing photographed exteriors alongside their street address on canvas. As a teacher at CalArts (1970-1986), he influenced many young artists including David Salle, Jack Goldstein, Mike Kelley, Tony Oursler, James Welling, Barbara Bloom, Matt Mullican, and Troy Brauntuch. His classes fostered a critical atmosphere, encouraging classroom participation in the deconstruction of the work of all participants, students and visiting artists. The early 70s marks a shift for Baldessari. With "Floating Color", 1972, his love for color is captured in a sequence of six photographs. This work shows Baldessari throwing large pieces of colored paper from his second story roof. This clever introduction of color-chunks into the realm of photography, signals an interest that would shape his work mid 1970s to present. Baldessari would soon abandon a strict Conceptual Art practice, embracing a looser investigation of color fields (and dots) combined with movie stills, works that are more open to interpretation and are not to be taken so literally. Roberta Smith observes "these pieces fully exploit and usually satisfy our tendency to read narrative into every image that comes our way, a skill developed in no small part by watching movies." John Baldessari is represented by Marian Goodman Gallery. See also Ed Ruscha, Bruce Nauman, Jenny Holzer, Joseph Kosuth, Barbara Kruger, and Cindy Sherman.