409.
$186,700
$84,553-$126,830
04/14/2015
PAE: $84,553-$126,830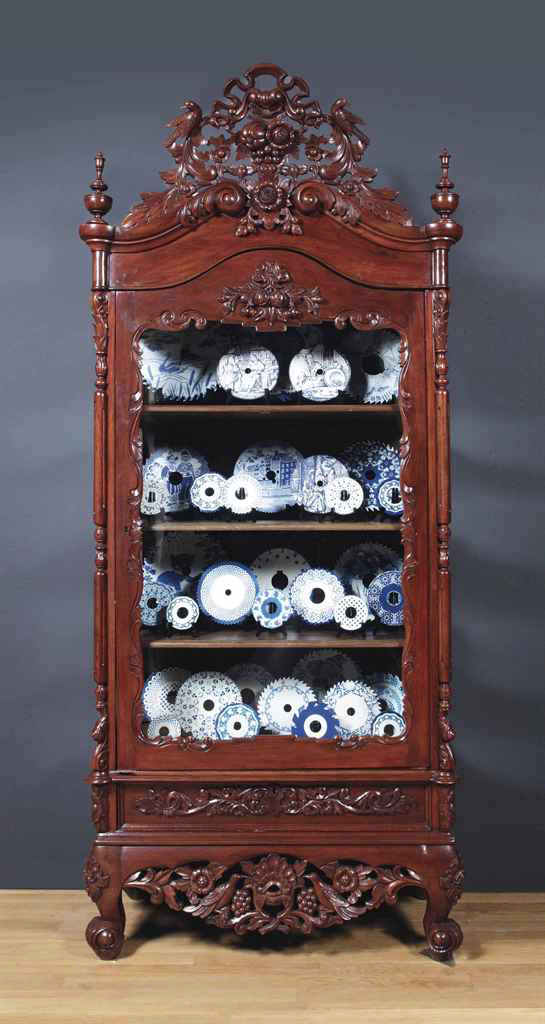 Wim Delvoye, Cabinet (Installation of 35 Delft Saw Blades), signed 'WDelvoye' (in the drawer); signed and inscribed 'installation of 35 Delft saw blades WDelvoye' (on four labels in the drawer); each saw blade numbered '1' to '4' (on a label on the reverse), enamel on 35 steel saw blades in wood and glass cabinet, 245 x 115 x 46 cm. Executed in 1985 © Images are copyright of their respective owners, assignees or others.
Sculptor, Wim Delvoye, was born in West Flanders and educated at the Stedelijke Academie voor Beeldende Kunsten. He lives and works in Ghent, creating conceptual (Duchampian) sculptures that often deal with bodily functions, animals or Gothic creations. Three of his best-known series are Cloaca, which is a machine he had fabricated that replicates the human digestive system from ingestion through excretion, Art Farm, where he tattoos pig skin or live pigs, and Gothic works of stained glass windows featuring couples engaged in sexual acts or laser-cut steel models of machines with decorated surfaces mimicking Gothic filigree. In order to continue his tattoo series, Delvoye has worked part time in China, as Belgian laws rule that such works are illegal and Chinese laws are more relaxed on such issues. (For a better understanding of Delvoye's art and his methods, visit wimdelvoye.be). The Guggenheim, Walker Art Center, Castello di Rivoli Museo d'Arte Contemporanea and S.M.A.K. are a few of the institutions that have acquired his work. Major solo presentations of his art have been staged at MAMAC Nice, Musée d'Art Contemporain, Lyon, Peggy Guggenheim Collection, Castello di Rivoli and the New Museum, and a public project in Central Park and Madison Square Park in conjunction with the Public Art Fund that featured gigantic Cor-ten steel versions of his Gothic truck models. The 1992 Documenta brought the artist to international critical acclaim, with other important group shows being the Moscow Biennial and two Venice Biennales. Delvoye is represented by Sperone Westwater.