239.
$377,000
$250,000-$350,000
11/11/2014
PAE: $250,000-$350,000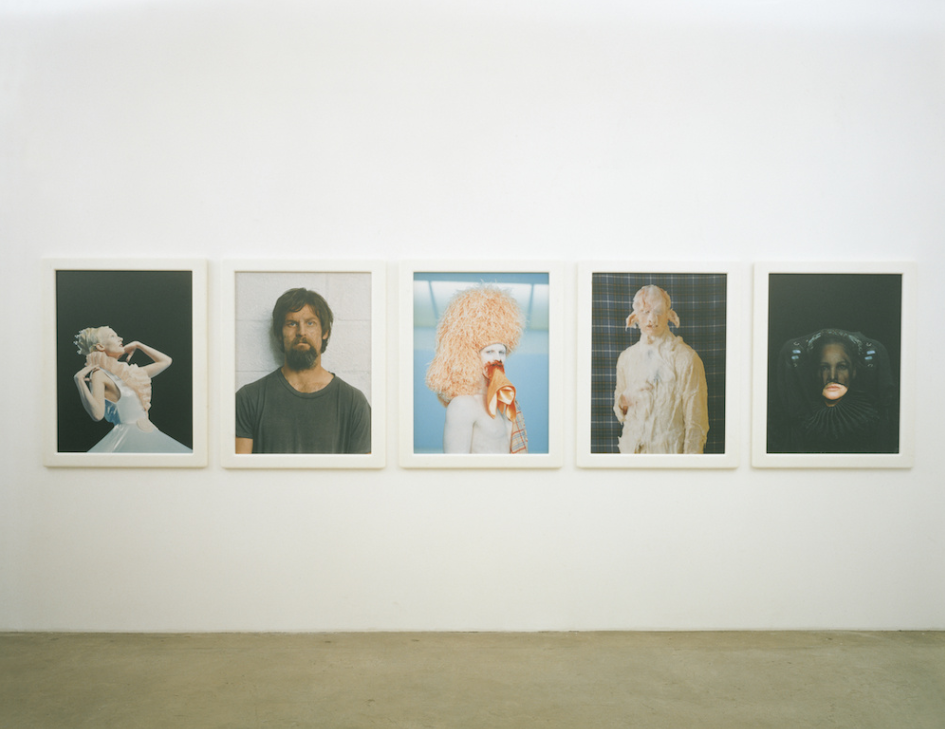 Matthew Barney, Cremaster Suite, signed and dated 02 on the reverse of the central panel, C-prints in self-lubricating plastic frames, in five parts, each: 44 x 34 in. 112 x 86 cm. Executed in 1994-2002, this work is number two from an edition of ten plus two artist's proofs. © Images are copyright of their respective owners, assignees or others.
Matthew Barney (b. 1967) is an American artist known for his work in film, sculpture, photography and drawing. He first came to art world recognition just two years after graduating from Yale University in 1989. As an undergraduate Barney developed his unique version of body-centered performance titled "Drawing Restraint" (1987-). This series' roots can be traced to his training as a football player. As an undergraduate athlete, Barney developed an understanding of hypertrophy that has come to characterize his entire artistic approach. Muscle hypertrophy involves an increase of skeletal muscle through an increase in the size of its component cells. One's body does not grow unless the muscles encounter resistance enough to break down, causing the muscles to become stronger through the healing process. For the most part, his "Drawing Restraint" series are video documents of his attempts to make drawings while his body is restrained. In "Drawing Restraint 6", 1989, Barney uses a mini-trampoline to draw a self-portrait, one mark at a time on the ceiling of a studio. He creates "facilities to defeat the facility of drawing". Later versions of "Drawing Restraint" embrace narrative and characterization, escaping the literal document of art performance video, morphing into full length feature films, as seen in "Drawing Restraint 9", 2005. A central theme for most of Barney's work is death and transformation. His five-part "CREMASTER cycle" –view Cremaster 1, Cremaster 2, Cremaster 3, Cremaster 4, Cremaster 5– a film series spanning 7 years of creation from 1995 to 2002, expands this theme of death and transformation relating it to the embryonic process of sexual differentiation. "CREMASTER 1" allegorizes the most undifferentiated state of sexual development while "CREMASTER 5" allegorizes the most differentiated state of the development of male or female organs. In addition to the gradient between undifferentiated and differentiated states, all parts of the cycle repeatedly return to "those moments during early sexual development in which the outcome of the process is still unknown—in Barney's metaphoric universe, these moments represent a condition of pure potentiality." Accompanying the film as part of the work are the sculptures, photographs, and drawings that Barney creates for the film. Following "CREMASTER", Barney created "River of Fundament", 2006-14 in collaboration with composer Jonathan Bepler. In this six hour long, filmed opera –loosely based on Norman Mailer's novel "Ancient Evenings"– Barney replaces the soul from Mailer's novel with the automobile following this automobile through three reincarnations. Haus der Kunst summarizes: "'Ren,' the project's first act, documents a live performance in a car dealership in Los Angeles in 2008, where the car – the 1967 Chrysler Crown Imperial from 'Cremaster 3' – undergoes its first death. The second act, 'Khu', which is also the second part of the film opera, is set in Detroit and brings the Chrysler back to its birthplace, reincarnated as a 1979 Pontiac Firebird Trans Am. In 'Ba', the automobile's soul travels to New York, where the myth materializes as a sculpture." Including the performance, this project includes 14 large-scale sculptures (weighing up to 25 tons), drawings, photographs, storyboards, and vitrines. Matthew Barney is represented by Gladstone Gallery. See also Richard Serra.