266.
$342,827
$125,520-$188,280
CHR-LDN
06/30/2015
PAE: $125,520-$188,280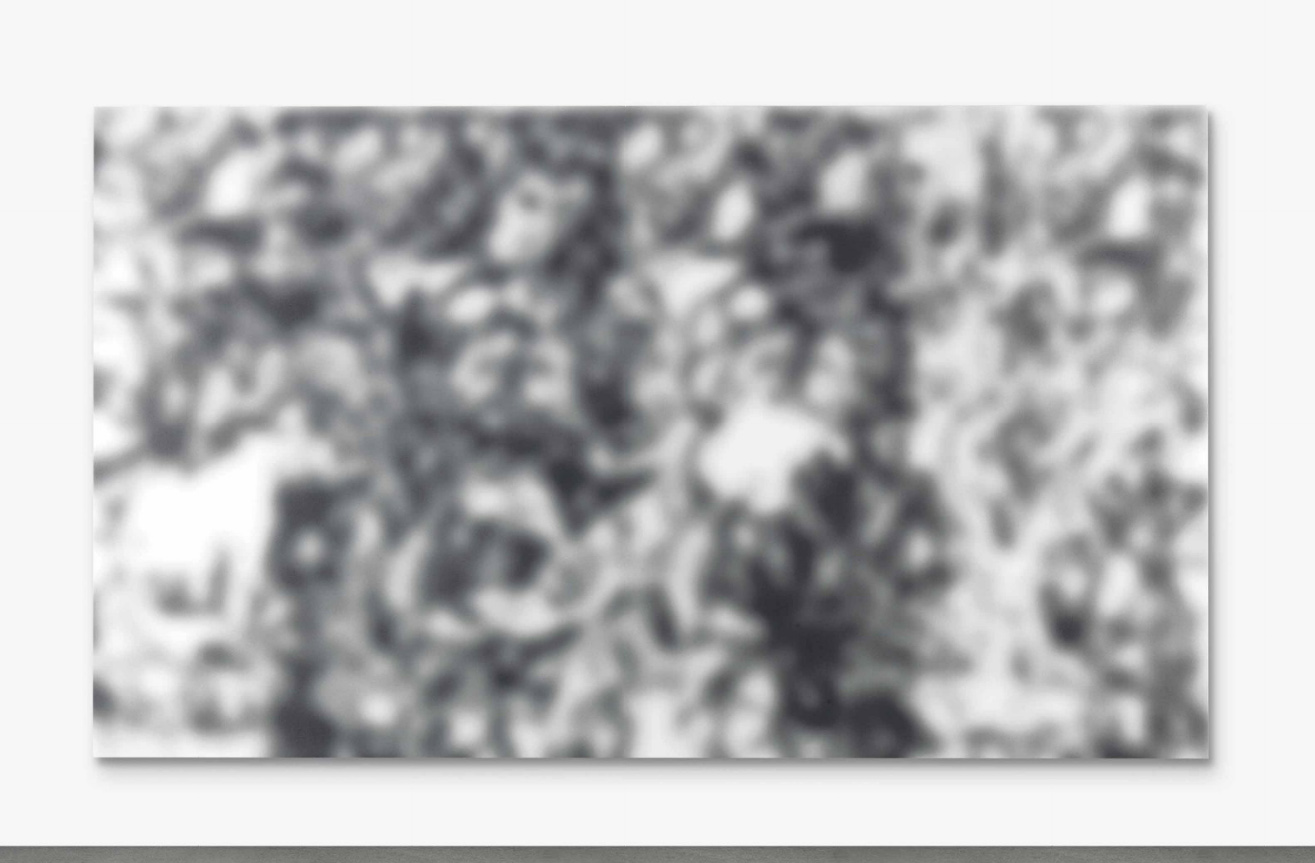 Jeff Elrod, Echo Painting (B/W), signed, inscribed and dated 'Jeff Elrod 2013 NY' (on the reverse) UV ink on canvas, 84 x 143in. (213.4 x 362.2cm.) Executed in 2013 © Images are copyright of their respective owners, assignees or others.
Jeff Elrod (born 1966) is an American abstract painter who utilizes software such as Photoshop and Illustrator in order to create large format works that are sometimes printed and sometimes painted. His "paintings" are often hybrid images containing analog techniques using acrylic, tape, and spray paint, as well as digital processes like using the mouse to draw on the computer, what he calls "frictionless drawing". Elrod got his start in 1996 while working in the graphics department of the Houston Chronicle. During his downtime he would create digital drawings on his computer, making lines and color fields that he would later copy onto canvas with the help of a projector. Early works such as "Swan Dive", 2001, is rendered with acrylic on canvas, that Elrod has copied from a computer generated image containing the word "Great", repeated almost illegibly, displaying the awkwardness of drawing with a mouse. Elrod would later reverse his drawing process with his "Echo Paintings" from 2012-2013. In this series, Elrod scans his hand-made line drawings into the computer and blurs these lines in Photoshop, softening the lines' hard-edges to make a cloud-like field that plays with one's vision. This is a wonderful collaboration between machine and man and displays both the spontaneity of abstract line making and the perfection of machine execution. The spray-paint like effect can be traced to the work of Martin Barré from the 1960's in which the artist gave up the touch of a paint brush to canvas preferring an airborne transference, one by which the marks produced are not made by any physical contact between the artist and support, but with spray paint. Inkjet printers operate similarly; the ink is sprayed onto the media, but in an extremely accurate manner. In "Echo Paintings", Elrod shows a smoothness that is nearly impossible to paint by hand. The techniques explored in this series have extended to works such as "Scratch Acid", 2014, in which Elrod combines his earlier mouse produced letter-forms with his line blur technique, establishing a foreground and background that are in extreme contrast. Sharp, almost illegible text is just as vague as the washed out blurs leaving the viewer spatially confused when they realize that the white letters do not sit on top at all. They are knocked-out and show the white of the canvas on which the blur sits. Jeff Elrod is represented by Luring Augustine, Galerie Max Hetzler, and Simon Lee Gallery. He currently lives and works in Marfa, Texas and New York City. See also: Bridget Riley, Wade Guyton, and Albert Oehlen.
Jeff Elrod: ESP @ Galerie Max Hetzler, Paris - from
2-TIMES · Art