105.
$1,077,142
$764,318-$982,694
10/22/2016
PAE: $764,318-$982,694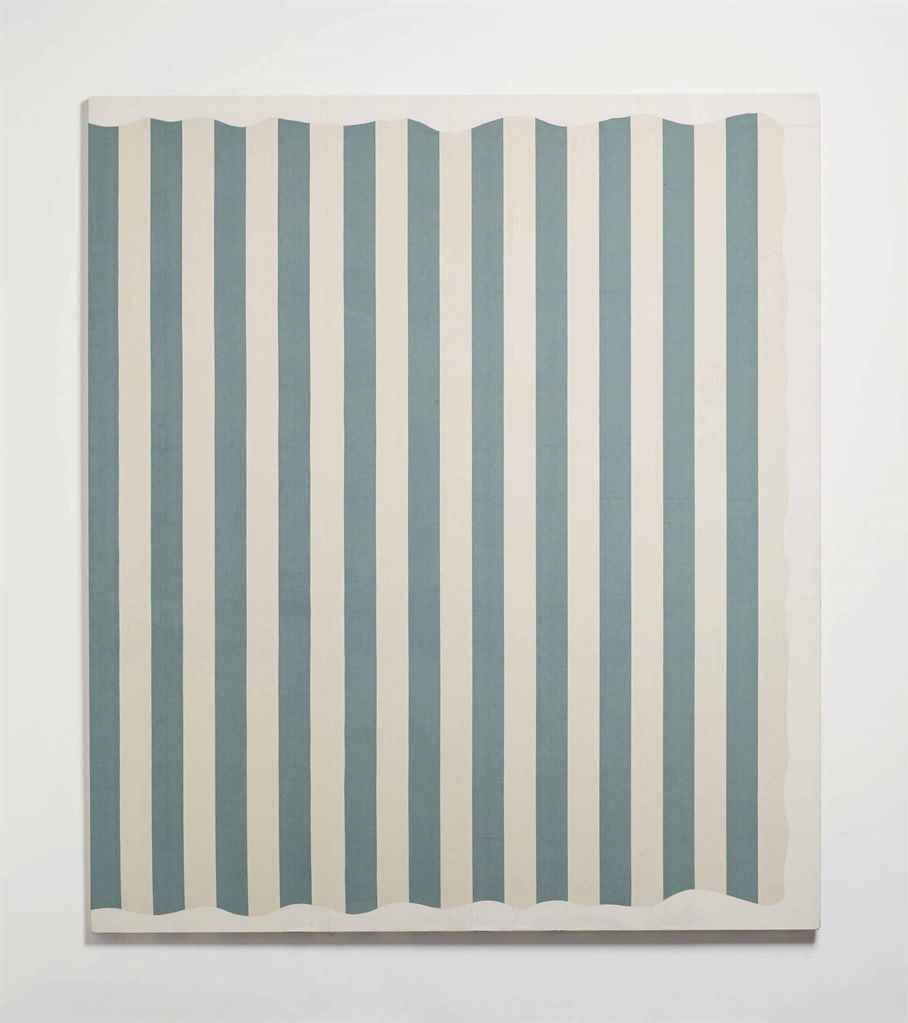 Daniel Buren, Painting with Varying Forms, dated 'March-October 66' (on the reverse) painting on cotton fabric woven with white and green stripes, alternating and vertical, 8.7 cm wide each,228.3 x 199 cm. (90 x 78 3/8 in.) Made March to October 1966. © Images are copyright of their respective owners, assignees or others.
Daniel Buren (b. 1938) is a French conceptual artist known for his signature use of 8.7 cm wide vertical stripes, taken from French awning fabric, a motif that he has utilized since the late 1960s. He is credited with the invention of "institutional critique" and has explored extensively the work of art as site specific and site dependent, or "in situ". By early 1966, after one year of exploration, Buren had discovered a trajectory that would guide his entire practice. At this time Buren had rapidly absorbed the work of slightly older artists, Ellsworth Kelly, Frank Stella, François Morellet and Simon Hantaï. These artists sought to remove any sense of expression from their works, by removing figuration, abstract gestures, as well as artist-determined geometrical arrangement explored in the earlier work of Piet Mondrian. The celebration of the artist and his work as heroic vehicle for internal feeling had become redundant through abstract expressionism by the time of Buren and his contemporaries. Art and artists alike were responsible to their environment, to the world around them, not only to their internal devices. Abstract Expressionism, Geometric Abstraction, Op Art, etc. did not question the frame or the placement of the artist's work in this context. Buren, like his predecessors, had also dispensed completely with figuration, as well as figure-ground relations and sought an artistic gesture of minimal intervention, an illusion-less surface. He achieved this with striped awning fabric. Claiming this material, the stripes became Buren's "painting" when he decided to only paint one outside stripe with white acrylic paint. This minimal gesture would be applied to maximal effect when Buren decided to team up with artists Olivier Mosset, Daniel Parmentier, and Niele Toroni, known collectively as "BMPT". This group famously paved the way for institutional critique during the "Salon de la Jeune Peinture" of 1967 when they each worked for 9 hours on their trademark banners only to exit the exhibition with their works leaving behind a banner that read "Buren, Mossett, Parmentier, Toroni are not exhibiting". After disbanding from BMPT in 1968, Buren continued his exploration on the street, removing himself from the exhibition space, posting his striped motif all over Paris, as what he called affichages sauvages (savage postings). Set amidst the political postings of the 1968 student demonstrations Buren recalls: "With these I understood that what I was showing wasn't the material but what was around it" (Modern Painters, 11/2011). His attempts to reveal a work's surroundings ironically led to the removal of Buren's work from the Sixth Guggenheim International Exhibition held at the Guggenheim Museum in New York, 1971. His enormous awning material was hung from the top of the museum slicing the famous rotunda in half. This display angered other artists, Donald Judd and Dan Flavin who threatened to remove their work if Buren's was not taken down. They complained that Buren had visually obstructed their works. What these artists were probably more aware of was that Buren had called into question the supposed neutrality of the institution in which the works were displayed, a point that their brand of minimalism overlooked. Buren's work, "Peinture-Sculpture", radically confronted the actual space allowed by the museum's architecture. His questioning of institutional and commercial space continued with his exhibition at John Weber Gallery, NY. This time Buren's striped works, "Beyond the Frame", 1973, occupied both the gallery's interior and exterior in suspension within the gallery and across West Broadway. Since the 1970s Buren has continued his confrontations, so much so that institutions today, fully aware of institutional critique, have become all embracive of such efforts. Through his works and others, (see Hans Haacke), artists can not help but question the political, economic, and ideological objectives of their representative institutions and realize that they have the ability to subvert, pervert, and/or exploit this stage if necessary. Works of note throughout Buren's career are his "cabanes éclatées" from 1975 on, "Les Deux Plateaux", 1985-86, and "Le Vent soufle où il veut", 2009. Daniel Buren lives and works "in situ". He is represented by Lisson Gallery and Bortolami Gallery.